Pendelton's cigar page 4)P--------------------------Z

                    Padilla Artemis Double Torpedo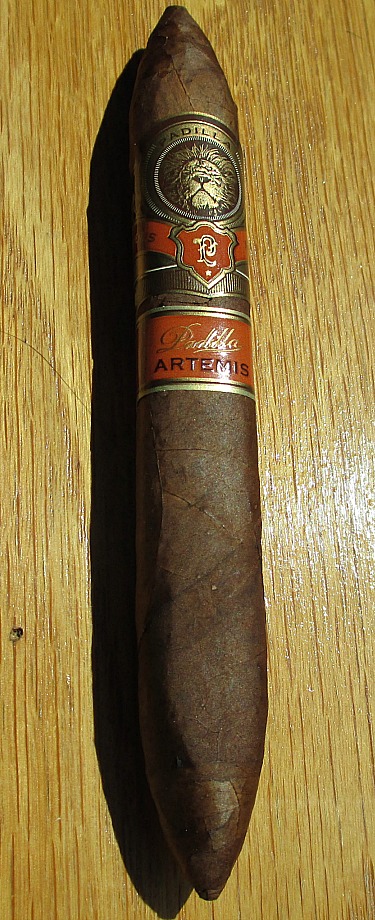 The smell of the wrapper leaf is about average. This is the third double torpedo I have cut and found there
to be a serious clog, but hey, just turn the cigar around and snip the other end, because they must have
put the bands on backwards! A perfect draw every time!!! In other words, whatever side works right!
This is a very tarry cigar! One that turns the smoking end black with gooey resin. Definitely not a cigar
anyone would want to chew on, and positively one you would not want to release through your nostrils!
You would think that for such a full-bodied cigar, the smoke would be a little thicker than it is, which could
best be described as a lightish blue. This cigar is certainly consistent in the way that it has making me feel
queasy with each swallow. Kind of feels like I am smoking burnt coffee grinds that have been scraped from
the inside of a charred copper pot! Not a pleasant experience, to say the least. When every single swallow
stings, like you have just spit out a mouthful of chewing tobacco, I think it may be time to lay the cigar down.
In all honest, I like the Padilla Fumas better, and they can occasionally be purchased for as little as a dollar a
stick at some online tobacco sites! Halfway down the wrapper leaf begins to unravel. I cannot imagine any
cigar aficionado wanting to smoke this. Tastes a little better with a cup of Maxwell House gourmet blend,
which seems to counteract some of the horrible toxins, I find most unappealing! If you want a nice strong
cigar without all the hubbub, then you should buy yourself a Montecristo or a Hoyo de Monterrey and you
will never go wrong! I have two left that I will probably give to friends who will most likely think that I am an
incredibly generous person. Of course I'm generous! If I wasn't generous, I would collect ten dollars a piece,
and then they would have a right to unfriend me!!! I would say without too much speculation that the nicotine
content in one of these sticks is the equivalent to about 3 cartons of Camel cigarettes! In the journal of Charles
Pendelton, this cigar is unanimously and without a doubt, winner of the worst cigar of the year award for 2012!



                                                            Padilla Fumas Churchill Connecticut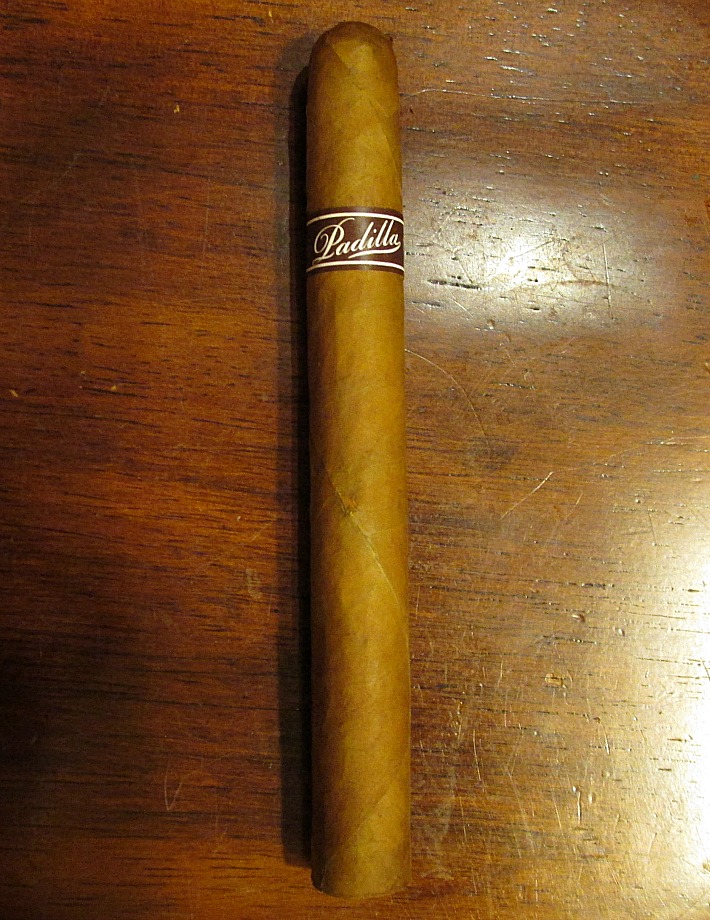 As I put the end to my nose, I can only smell a light-brown tobacco snuff. This is an excellent cigar
to end the day with! Comprised of non-complex fillers, there is nothing within it to encaptivate you,
and so you can just puff away because it is a really good smoke. It doesn't take very long before
the cigar becomes more robust, intensifying in flavor! There is nothing spectacular about it by any
means, but it is good to have another cigar under your belt. A nice topic of conversation when
someone mentions a particular brand that you have tried. Originally, I was only going to center this
cigar page around expensive cigars, but then realized it was a foolish idea. Not only do some cigars
in the cheaper price range rival some of the best makes, others can really hold their ground! Enjoying
cigars should never revolve around price, but rather, what one finds appealing. A particular style; an
exceptional size or shade, without becoming too prejudicial. Almost never do I buy the same cigar twice,
especially if it is a bundle I received through an incredible sale or auction. Only because there are so many
cigars out that are unique in their own individual way. As this cigar winds down, the taste is cocoa infused
with dark chocolate becomes more predominant, but it is getting hot. A few more puffs, and it will be laid
to rest in a corner of my ashtray, forever open to that special cigar no one had any love for.


                                          Perdomo Inmenso II #656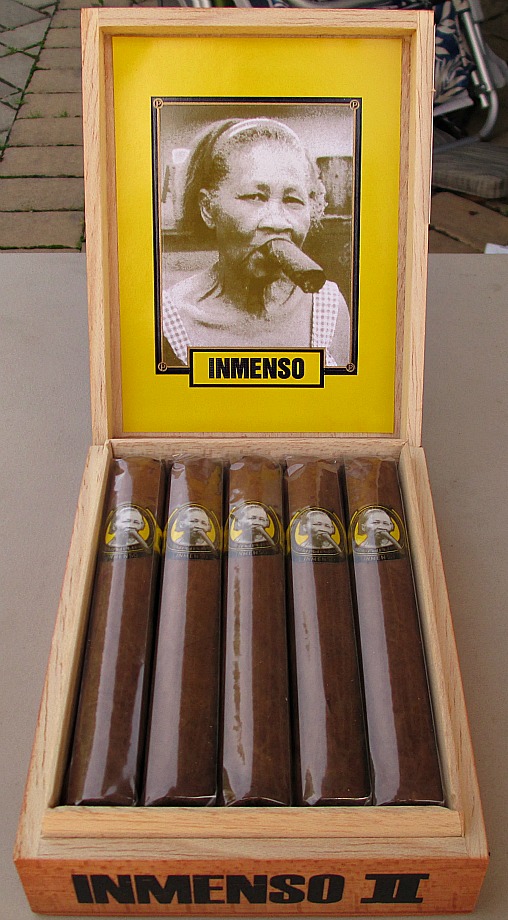 To the eye, this cigar appears to be rolled perfectly. To the nose, I can denote a hint of manure
in the wrapper leaf. The inner core is bold, yet sweet like an exquisite steak sauce! The cold draw
is a bit tight and peppery! From the start it is very spicy, and I can tell by the way it burns that
this cigar is going to last a long time! There's nothing magical about this stick; nothing overly
impressive. It is a very basic cigar that smokes quite well and burns flawlessly. Even though it is
not made in Cuba, and even though it is relatively a one-dimensional smoke, this cigar is truly old
school. A perfect night cap to top off the evening, it produces a minimal amount of throat tingles!
For that reason alone, I would really discourage people from smoking it before noon. As I approach
the two-inch mark, the flavor becomes stronger, while the cigar itself becomes more delicate in the
way that it has begun to unravel slightly. Because of the way it is rolled, the ash remains uniform!
Considering that we live within a society that feels the need to dictate our every move, I will keep
my cigar smoking to a maximum of two cigars per day. Years ago you could smoke at work, in
supermarkets, or in stadiums, but today everyone wants to live another day longer. I will not
isolate myself from a society I helped build, but rather, respect the wishes of others in the
privacy of my own secluded domain. I believe it is the right thing to do. . .


                                                                                          Piloto Cubano Churchill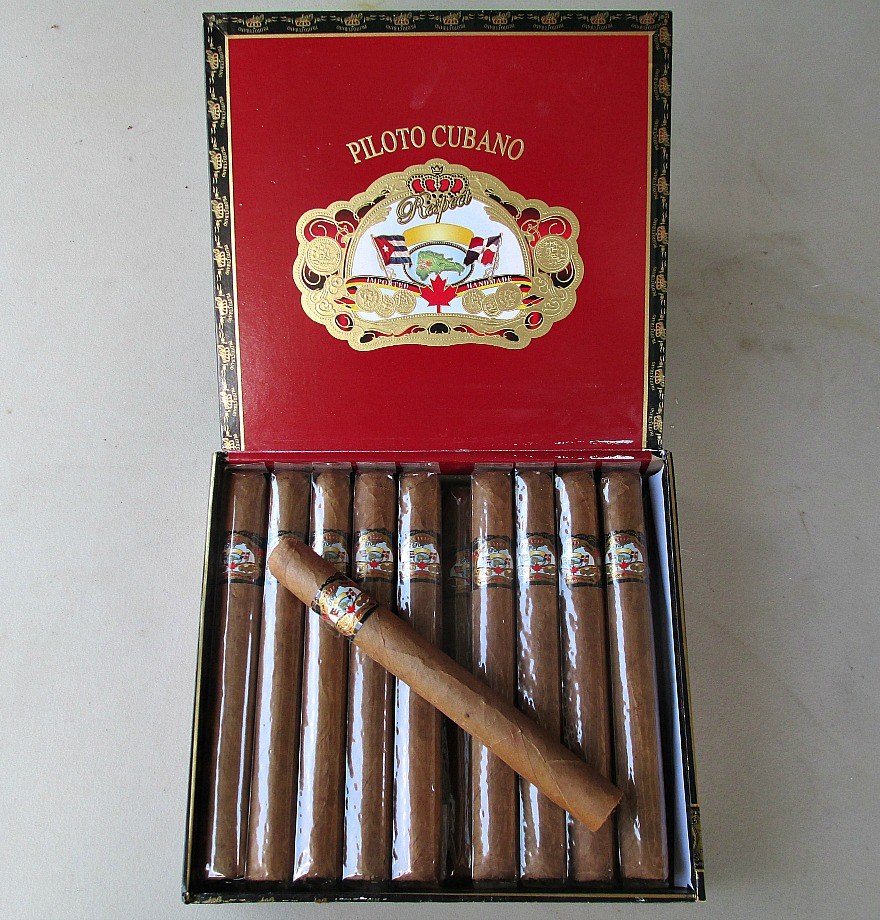 These cigars have a gorgeous light brown color, but most I find are with many veins, though not prominent. The outer
leaf has a very faint sweet smell, while the inner core smells like wood intermingled with vanilla. The cold draw is
clean, with a mild hint of cardboard that tastes like it has been used to house breakfast cereal. From the start, this
cigar begins to burn unevenly, and seems as though it wants to V-Crest its way to a relight! A little spittle helps to
procure the uneven burn. It works every time! The smoke is mild to medium, and a crack around the ash shows me
where it will fall. . . And there it is! This cigar must be tended to, and should not be allowed to sit for any length of
time, for it seems as though it wants to go out. I soon find my theory is a fallacy! I can taste hazelnut, and some exotic
spice, but there is really nothing to it. As I continue to smoke, a hint of ladies perfume covers my palate, and I haven't
tasted that since the Meisterrunde! I hate when I have to keep puffing against my will, to come up with a taste I can't
define! It's just frustrating! One of the few cigars that is best enjoyed during the light of day, due to its intriguing
color! As I approach the three inch mark, a warm creamy flavor sails in to abduct my senses! And it is good!!!


                                                                             Pinar del Rio Fumas Presidente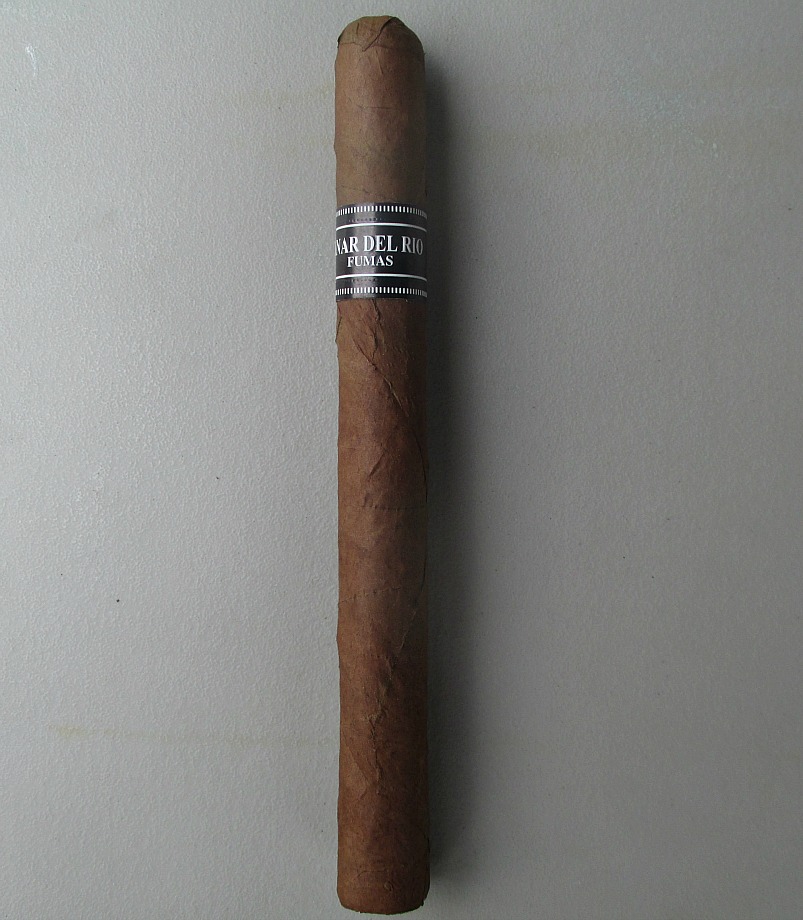 The external wrapper leaf has an indefinably sweet smell. Could it be the intense smell of freshly
made beef jerky, or the savory smell of chicken teriyaki? No, perhaps it's a Jamaican spice I have
yet to smell, or the essence of a particular flower; this I may never know. The inner core is sweet
as well, but without the key ingredient to defining it! On the cold draw, however, there is nothing;
except for a mild taste partially sweetened cardboard. Upon lighting, I find no problem in letting
the smoke escape from my nostrils! There is a slight bitterness on the cap, but not enough to turn
this cigar sour. At best, it is an interesting cigar that doesn't change at all from beginning to end.
I am not saying I dislike it, I am merely saying it is a good dollar cigar that you can smoke when
you feel the urge. There are no complexities that I can describe, but just an all around nice smoke.


                            Pinar del Rio Reserva Limitado Double Toro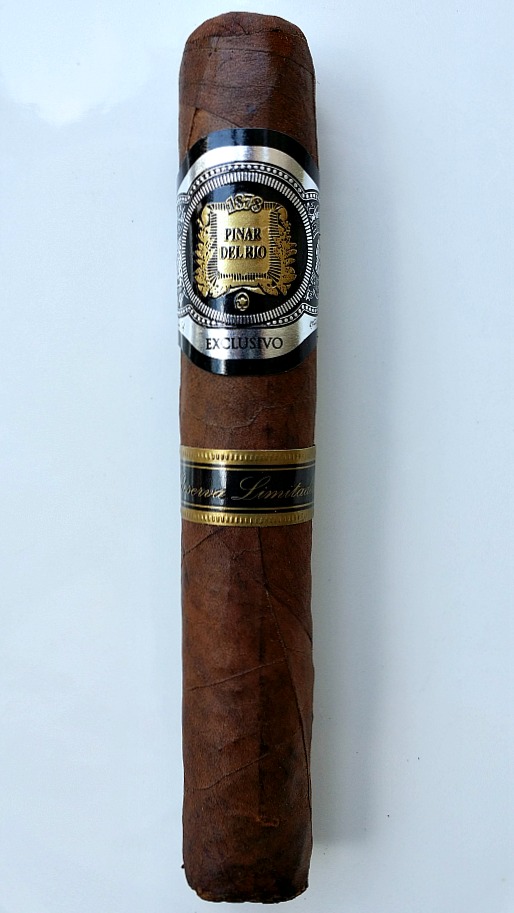 The wrapper leaf has a slightly spicy smell intermingled with the essence
of a fine leather coat, while the inner core "on the other hand" is sweet, like
an exotic fruit that has come to grow in a horse stable lined with Spanish
cedar! Using a sharp hole punch, I find the cold draw to be impeccably
smooth, and also very sweet as well! Upon lighting, this cigar emanates
with undertones of bitter cocoa, and tastes like a Camacho. Releasing the
smoke through my nostrils is just a wee bit overpowering, and should be
avoided. It was lit perfectly, but still refused to burn evenly. Gently pile
driving the ash will lead to a near perfect burn, but the bitter cocoa soon
turns into an acrid espresso; one I detest. (I know now, these cigars will go
into the "acts of kindness" box!) As the burn slowly approaches the first
band, the taste becomes increasingly sweeter. As the ash approach the
second band, the flavor has become most unpleasant, and I begin to feel
like a sailor who has taken too much rum, and the ship is slowly sinking!


                       La Prueba No. 12 - (circa 1930's)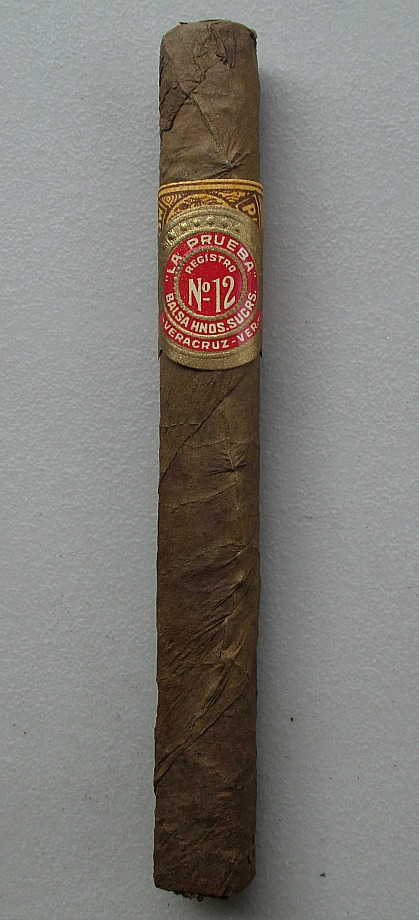 Judging by its appearance, I would have to say this is a box pressed cigar from the
early nineteen thirties or forties. The entire cap is enclosed by the wrapper leaf, and
so I shall make a tiny incision within it. There are a couple of veins running up to the
base of the cigar, but nothing to be overly concerned with. The draw is tight, and
squeezing the head is like squeezing a lead pipe of the same circumference! On the
dry toke, there are no discernible flavors I can name. The outer wrapper smells sweet
as molasses with an underlying hint of honey, which I hope is a good sign! Considering
how tight this is rolled, I truly doubt it will even light. Not only does it light perfectly, but
it burns perfectly as well! The smoke released from my nostrils is thick and creamy,
accentuated by a lingering hint of caramel! To my palate, this little cigar that isn't more
than five inches in length, tastes just fine. The brand, "La Prueba," which literally translates
to, "The Quiz," has been around for more than 180 years! This cigar on the open market
would retail for somewhere between $60 and $130, because there aren't too many of them
left. There is nothing awe-inspiring about the cigar in any way, and it kind of feels like I am
chewing on a tree branch; that's how well it's rolled! As we get down to the 2" mark, the
flavors become more pronounced. Still, it is not like finding a bottle of Mackinlay's rare old
highland malt whiskey in the frozen tundra, but it is good enough for me.


                       La Prueba No. 12 - (circa 1960's)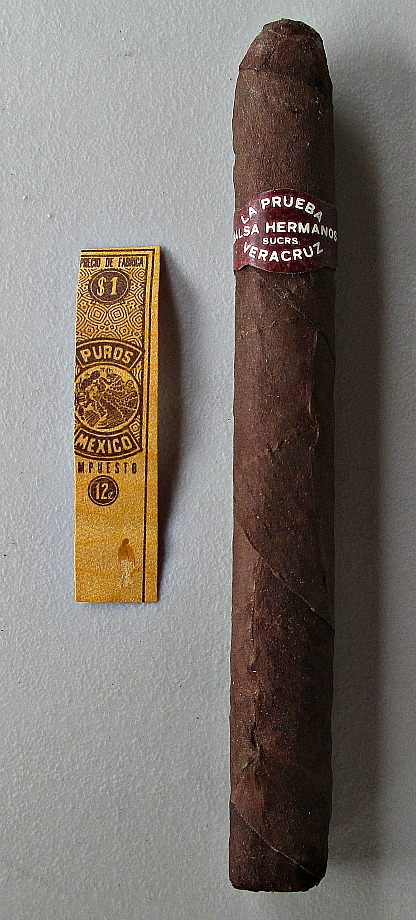 Removing this cigar from its thick and discolored cellophane wrapper, I begin to examine its appearance.
To the touch, it feels like it has been rolled in powdered sand! Looking at the partially calcified structure
of the Maduro wrapper, it appears to sparkle with shards of foreign matter that magically seem to reflect
light; I stand mystified! A little research reveals this strange phenomenon. It is called plume, which is a
crystallization of oils from the cigar wrapper that looks like a fine spray of sugar, evenly distributed across
the surface of the cigar to produce a glimmering effect. (((There will be no ill effects from smoking it.)))
The dimensions are 5-3/8 x 5/8, and there are no discernible flaws in the wrapper leaf that any unnecessary
attention should be drawn to. No need to snip the tip, because a "cat's eye" incision has already been made
at the factory! On the dry toke, (bringing air up through the nose) the taste imparted is of old TV guides and
magazines! In layman's terms, it is "smelling in reverse!" As I light up, I can immediately define the essence
of rotting cocoa intermingling with the noxious odor of burning tires, which has unfortunately left a "copper
penny taste" on my tongue. Before the ash has even begun to form, it falls to the floor like a shredded
butterfly! The smoke released into the air is a brownish yellow, and it isn't long before the cap unfolds and is
left hanging. Trying to stick it back on only makes it worse, and so I reach for the scissors. Let me tell you,
the workmanship that went into this cap is an absolute abomination to the art of cigar making! After a few
more puffs the flavor has become more complex, but not necessarily better. There is an undefinable taste
which has now settled on my palate; like partially diluted varnish with cardamon! Horrible!!! Nevertheless,
I still have three inches left, and considering the fact that this cigar refuses to fully unravels, I am forced to
continue writing. This is a battle with only one victor, and I am not laying down my sword! At the 2-1/2" mark,
the flavors are a bit more subdued, and the nauseousness in my stomach has subsided. In an unusual twist
of fate, I think the unsweetened black coffee actually helped! I have finally arrived at the 2" mark to find a
bounty of chocolate just waiting to be plundered! Ah-ha, and now the cigar gets hot. . . I can't win today!

                                                                         Rocky Patel Cargo Churchill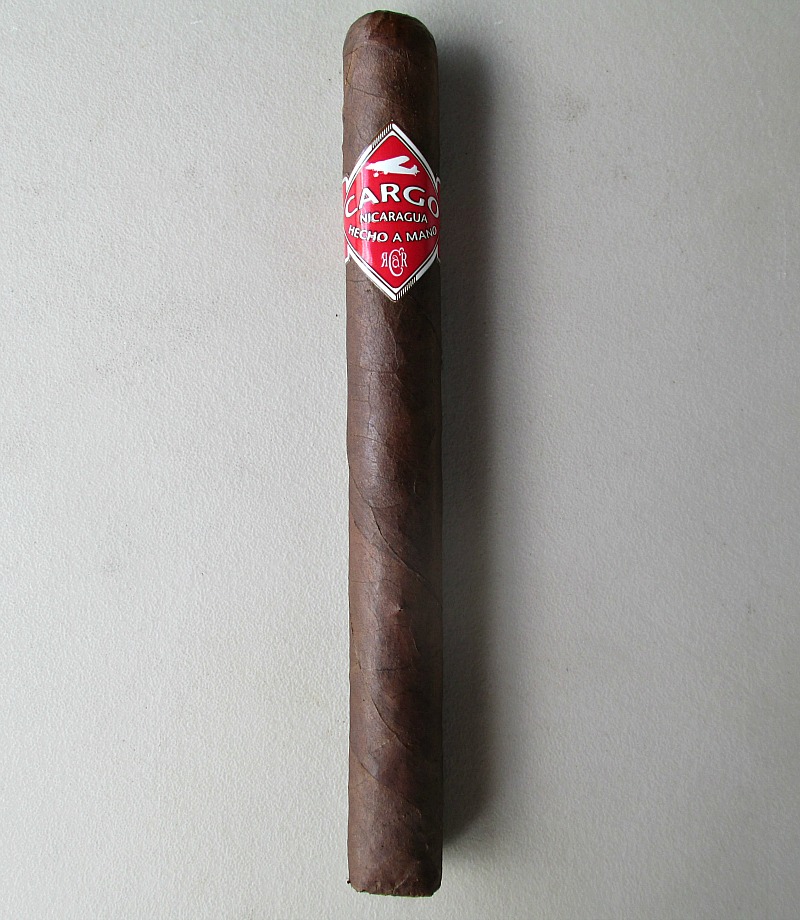 Let me first start off by saying that this cigar is the darkest of brown, but not quite as dark as a Maduro.
To the nose, there is a hint of manure on the outer leaf, and that is always a good sign! The inner core is
mildly aromatic, with scents of antiquated snuff, and or beached wood. On the cold draw, there is simply
an earthen taste of wood. Upon lighting, I find the smoke is gentle enough to flow through one's nostrils
without too much heat! This is one of those cigars that will burn perfectly every time, but I feel it is best
enjoyed in the evening hours. This is one stick that remains consistent throughout! No clouds of billowy
smoke until we surpass the four inch mark, but certainly sufficient! I would say, the flavor begins to
change around the 3-1/2 inch mark, to a more robust, more intense smoke! Before long, the roasted toffee
flavor soon gives way to a toasted espresso, and as we surpass the two inch mark, the cigar becomes hot.

                         Rocky Patel vintage 1999 Connecticut Toro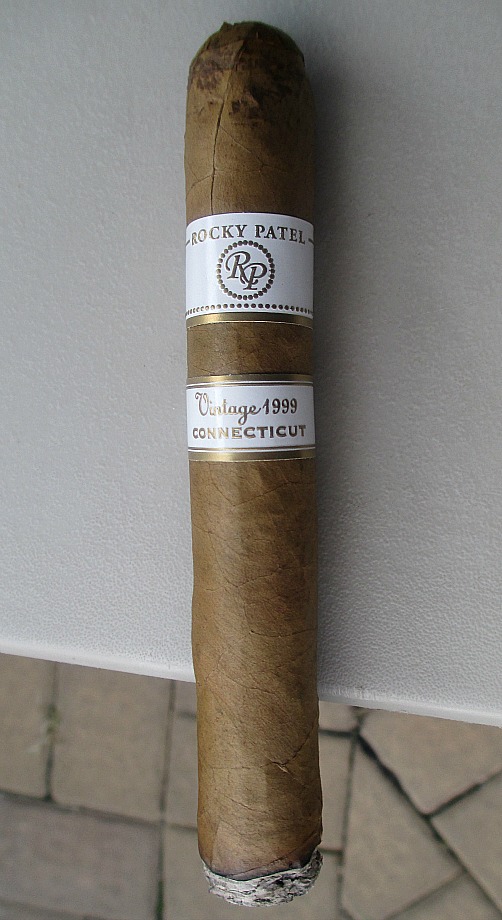 The wrapper leaf of this cigar has a very light scent which borders upon elegant,
and the construction of such a masterpiece is a joy to behold. Using the "V" cut
to etch a notch in the head, I am ready to light up! The draw is perfect, and the
Connecticut shade wrapper feels smoother than silk on my moistened lips. I can
now denote a hint of butterscotch, as the medium-bodied smoke gently coats
my palate! Releasing the smoke from my nostrils only proves to me that this is
a well aged cigar! There are no complexities to divert any of your attention to,
so just bear in mind that the cigar can only get better as it burns its way down!
As I near the two inch mark, the flavor comes bursting through, and it is good.


                                            Romeo y Julieta Churchill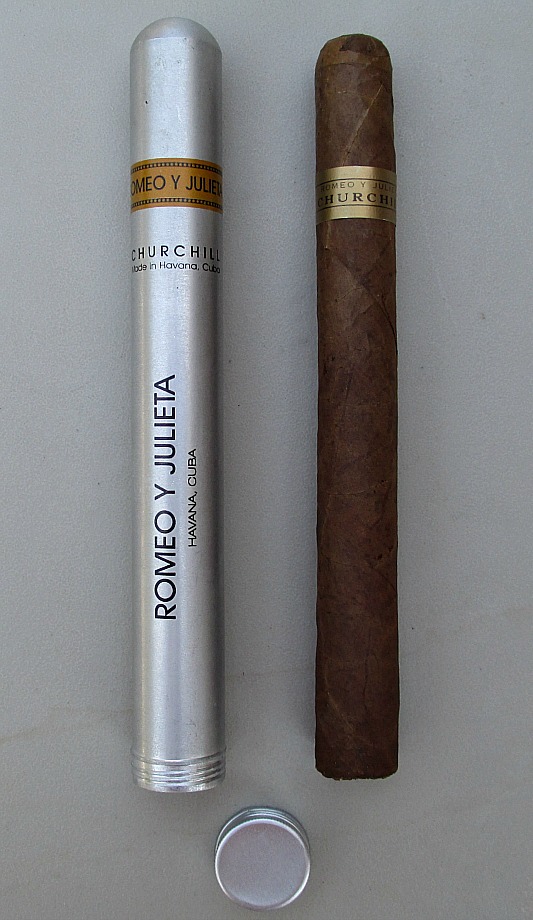 Over time, this antiquated brown cigar appears to have excreted some sap through
its wrapper leaf. The outer leaf smells funky, like the coat of a dirty old bum, while the
core smells rather pleasing, like a balsa wood airplane! On the cold draw, I can taste
the remnants of fossilized wood, forever abandoned in a tropical setting. Upon lighting,
I immediately taste the rich tarry resin of a medium-bodied cigar that tried ever so hard
to be full-bodied, but just couldn't make the grade! This cigar produces a nice amount
of clean white smoke, with an ash that falls way too soon. As this cigar burns down
it becomes less complex, but equally fulfilling!


                                                 Santa Clara 1830 Robusto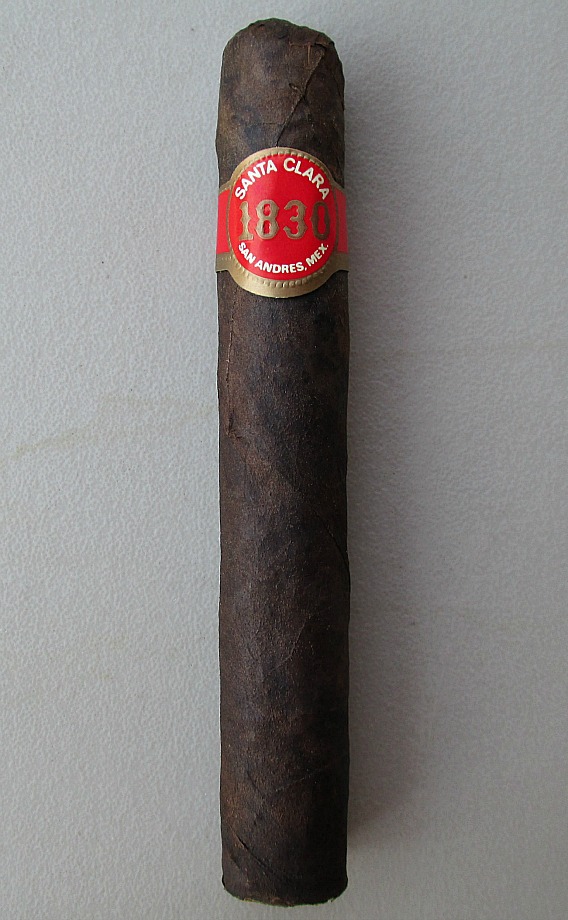 This cigar has been lying in my humidor for the past fifteen years, and so it is well aged.
Removing it from its discolored sleeve, the jet-black wrapper smells like a cross between
a new bicycle tire and freshly turned soil, while the core has a very peppery smell that
almost made me sneeze! The cold draw, on the other hand, gives me the impression of a
tree bark. Upon lighting, I immediately release the pure white smoke through my nostrils,
and the result is glorifying! Had I just purchased one of these, I would not attempt to let
it out my nose. I seem to be tasting fermented liquorice melded in with burnt espresso.
There is also a taste of wet rotting grass in the background of my palate. Strangely, I am
not complaining! I can now taste the most bitter of all unsweetened chocolate, as I enter
the kitchen area. As my taste buds begin to pick up new and exciting flavors, I find they
are not necessarily flavors I care to welcome with open arms! I can now taste the bitterness
of pure vanilla extract that seems to be spindling the unsweetened chocolate into a delectable
milk chocolate truffle! But still there is that sour, almost putrid bitterness that is very slow in
departing! As the bitterness subsides, the truffle flavor seems to die too. I can now taste the
potency of an overpowering Brazil nut, behind a shore of tar! This cigar burns perfectly,
right down to its final ash, and then it is no more.


                                      Sol Cubano Classic - Toro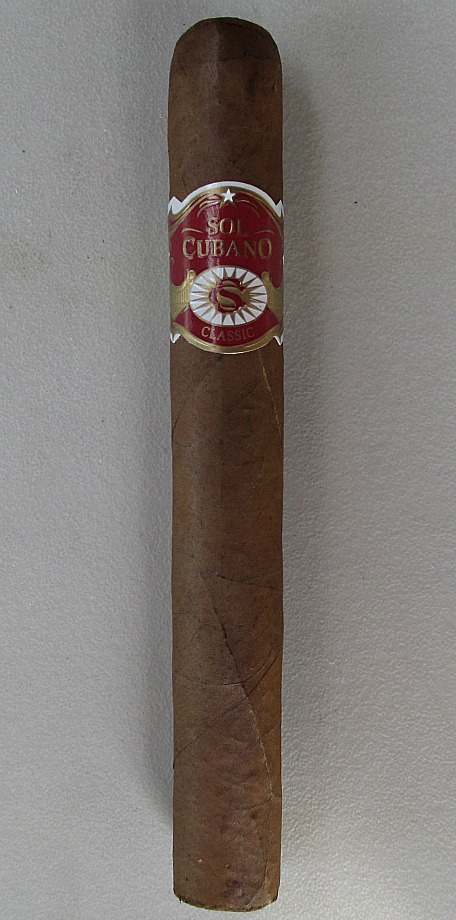 At first glance, the wrapper of this cigar looks almost machine made! It is flawless in every aspect and
has a very sweet, spicy smell. Looking into the core, I can see a combination of red, brown and yellow
filler leaves. Something tells me, this is going to far exceed my expectations of what I've been preparing
myself for! The draw is very tight, and in this case, a sign of a very long smoke. The dry toke is so spicy
I am coughing! Rolling the cigar on my lips, I can almost taste a sensation of jalapeño peppers. . . I hope
this cigar doesn't give me the runs! Judging from the smoke it is very light, and feeling the wrapper just
below the ash feels like I am holding a Philly! This cigar burns like a charm, and doesn't need any coddling
because it is not going out on its own! If I had to guess, I would say that one of the filler leaves was aged,
but then again, I am only speculating. There are no complexities to denote, and sometimes it is better to
have a perfect burn with perfect balance than it is to have a cigar bursting with flavor that burns like shit!
In the world of cigars, it is always better to work your way up from the bottom. I was really preparing myself
for disappointment, and in return I am astonished! What a nice relaxing cigar this is. After the first inch, the
contrast of flavors begins to change, but the transition is so minimal that it cannot be documented. Hey,
some things can't be rushed. If I can get at least an hour out of it, (and I'm sure I will) I will be more than
pleased! There is a subtle nuance of flavor; a gentle smoothness that still cannot be ascertained in words!
I hate to use the term "nutty," because it is so overused it sickens me! If I had to choose a nut that best
describes what I am tasting, I would have to go with macadamia. When I first purchased this cigar along with
a series of other cigars, I had no intention of liking it. I just wanted to get it out of the way, so I could get on
with the really good cigars, but once again I am fooled! I never thought I would be writing cigar reviews for
posterity, but a friend of mine made a very serious comment on my writing skills, which propelled me into
the area of writing once again. As far as writing another book, I would sooner go out shopping for a coffin
than sit down to that drudgery! Sometimes, there is nothing wrong with being brutally honest, even though
you know it will offend everyone around you! And sometimes it is best to just keep quiet and enjoy the day.
I often think, how can someone in organized crime enjoy the placidity of a cigar and then go out and kill
somebody? It just doesn't make sense to me. As I surpass the three inch mark, the flavor has become bolder,
not better. Still, I have no complaints! I've been smoking this cigar for over an hour and a half, and I simply
cannot fathom it coming to an end. My mind will not process it, because then reality comes in again to strangle
me. At the one inch mark when my cigar is clinging to an ember, I'll bring it back to life, even though I know I
shouldn't. It's hard to say goodbye to something you love. During one point of this review I became very inebriated.
Maybe the psychedelic void of my past opened ever so slightly, allowing too much light to shine on my moment.
Perhaps it is the contentment I feel inside of life's passing. I can't say that this is the best cigar I've smoked all month,
but I will say it has brought me the most peace.


                                           Tatuaje Havana VI - Nobles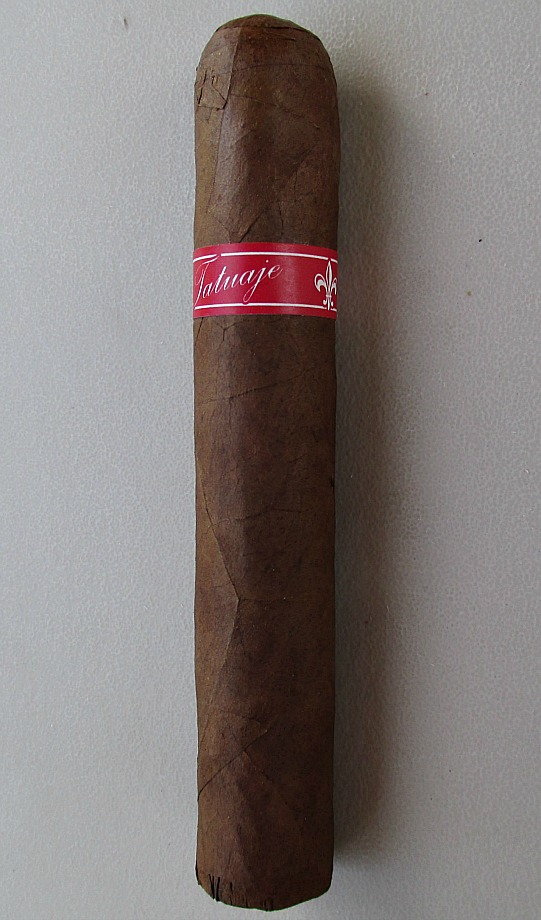 This cigar is certainly rolled well, but I cannot say that I am a fan of small cigars. Small being
anything shorter than a Churchill, and thinner than a 50 ring gauge! The wrapper smells of musty
earth and rust, while the inner core smells like spicy tobacco snuff. I cannot gather any flavors
from the cold draw, I will say, however, that it pulls quite effortlessly! Upon lighting, my palate
is assaulted by a bold, spicy, peppery taste, and my thoughts reflect a Cuban Montecristo! Huge
mouthfuls of full bodied smoke illuminate the sun-filled room, casting a long shadow on a day that
has yet to be lived. Slowly, I endow myself with a cup of Martinson's coffee poured black. The
perfect accompaniment to any cigar that may be overpowering to the senses. Do not release the
smoke through your nostrils, or you will be sorry! I would not purchase this particular cigar again,
neither will I smoke it. It is just too overwhelming for my enjoyment. A different size from the same
blend, yes, but never the "Havana VI Nobles." The coffee seems to offset the balance of this cigar
slightly, while imparting a more resiny taste on my palate. The nicotine content herein is not only
making my throat tingle, but has caused my hands to sweat! If you factor in, that an average cigarette
has around 8.5 milligrams and a cigar, about 100 to 200 milligrams per stick, you will find this cigar in the
upper range; clearly, I am feeling those ill effects! This is definitely not a morning cigar, and I will certainly
do some research into the matter when lighting up next time before 12 am. I have been smoking this cigar
for almost an hour and a half, and that is beginning to show! When I removed it from my humidor, I didn't
give it a second thought because it looked so non-threatening, and that tiny granola bar I ate for breakfast
has only aided me somewhat. Dizziness is now setting in, but I shall prevail. My stomach is now quivering,
like I just drank half a pint of rum and will soon purge! This happened once before with one of my Graycliff
Turbos, but it never happens at night. Strange how the human body performs on an empty stomach! The
cigar has finally met its end, and the dizziness and nausea have been replaced by a headache in both temples.
I kind of feel like I can't even drive, but I have places to go today, and so I will soon be on my way.


                           Trinidad Fundadores (AKA) Long Panatela (Laguito)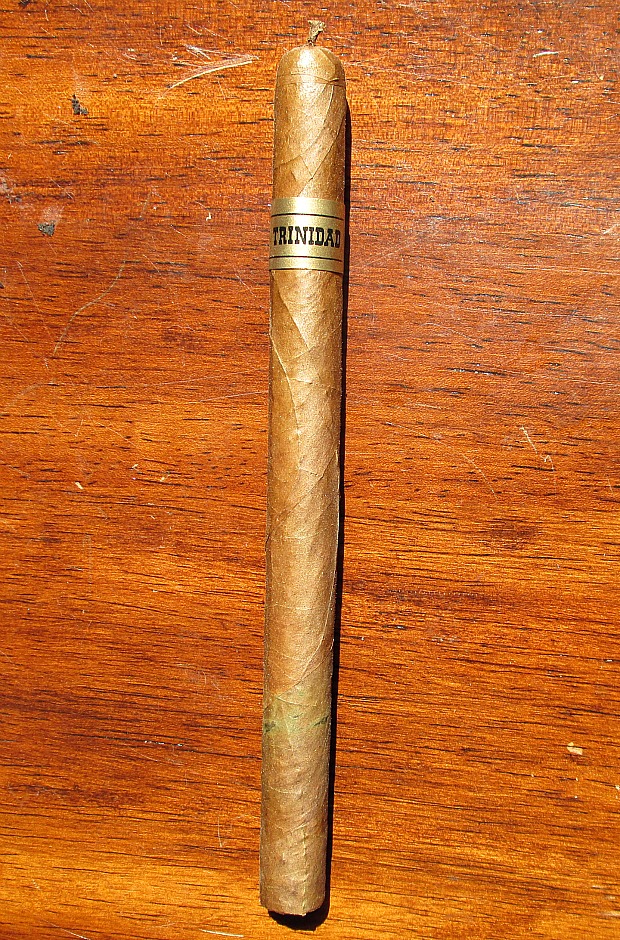 To the nose, this cigar smells like finely groomed horsehair. The draw is tight, and so I must spearhead
it with a with a fine-pointed rod; the draw is still imperfect. Releasing smoke through my nostrils, is like
releasing air so immaculately pure, it envelopes me in dream. I am not worthy of such earthly delights!
Since the cigar is aged, there is no burn whatsoever, and I could probably inhale it, but I will not. Hints
of sweet cedar are predominant in the balance, where change is ever so subtle, and the mild distinctions
between wood and leather are genetically entwined. It is hard for me to define, without reinventing ideas,
just where this cigar is taking me! Like a small plane waiting for liftoff, I grow impatient. I can now truly
understand the adrenaline junky who longs for the rush of endorphins that comes from playing video
games or base jumping from tall buildings, because that is the thrill I get when I prepare to light a cigar,
I've been anticipating! The immediate sensation that accompanies unadulterated bliss, or in some cases,
can even lead you to the acme of despair! A cigar is not a "mind altering experience," as is the sugar cube,
per se, but it does tend to redefine our existence; only without the intrusion of footprints being left behind!
A nice caramel taste permeates the room and lingers on my palate, I am satisfied. Not only can I think
more clearly, but I am also relieved of doubts and fears which plague me on a daily basis. Until I return
to work, I will continue to reside in the pessimists haven, where the glass is always half empty, and a
smile is always forced. Those thoughts have now been deleted!As I near my final inch, that tarry resin
breaks through the clouds like a sunburst and that alone overwhelms my senses! It was a good cigar,
but it won't be winning any Olympic medals in my book. 


                                                       El Verso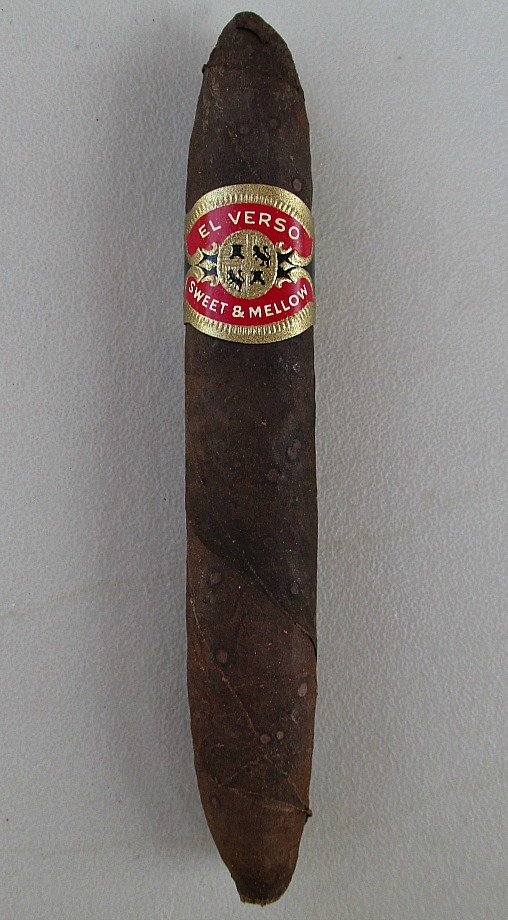 From the beautiful gold embossed on the cigar label, I will have to say this particular cigar
is from the late 1940's! Unfortunately, it is covered in perfectly round brown circles, which
I assume is a form of mold. To my nose, this cigar has a very putrid smell, like a dry armadillo
shell that is long past the point of decaying. Upon lighting, I find it very tarry, with thick clouds
of billowy smoke, and the draw is as smooth as can be! Since the cigar is aged, the Maduro
wrapper will continue to burn flawlessly because the oil in the wrapper leaf is no longer moist.
I must say, this cigar is a tarry treat! As I approach the two-inch mark, the flavors become less
enjoyable, but not in any way a chore. Sort of a cross between rolling tobacco and unsweetened
cocoa, leaving my palate feeling like a dirty ashtray!
                                   Victor Sinclair box-press Doppel Gordo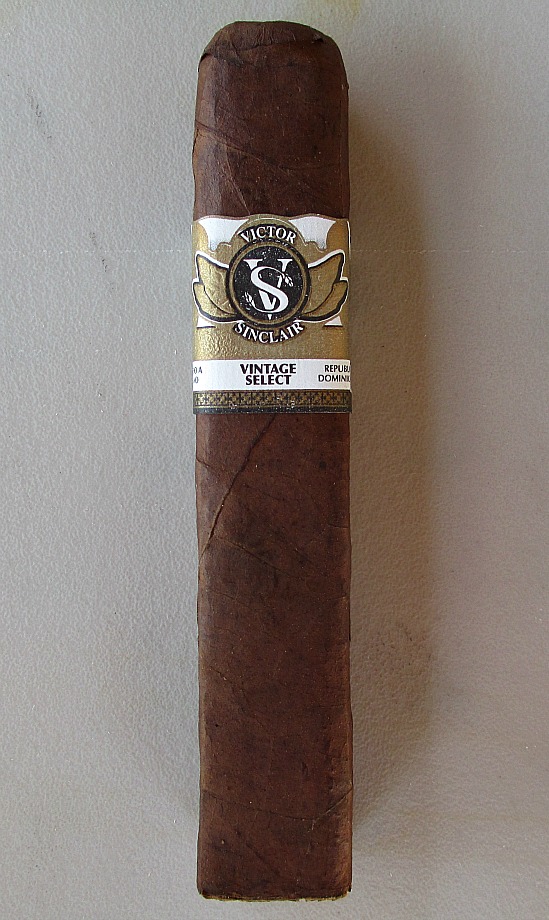 This cigar is a massive 70 ring gauge and I cannot wait to smoke it! Like a beautiful block of wood it
rests, magnificently adorning the kitchen table where it almost appears to blend in. The outer wrapper
has only a faint smell of leather, while the inner core smells sweet like the finest of all English toffee!
Poking a hole, I find the cold draw way too airy, as if there was no cigar. Judging by how many leaves
are crammed in there, it just doesn't seem possible! I can only hope there are not too many air
pockets, where it will begin to burn erratically. As I light it, a piece of the cap comes off. No big deal,
it still smokes good. This cigar is exceptionally light for such a dark wrapper and it is very surprising
that it is not a tad more robust. Letting some smoke out my nose, the taste on my palate is now
very reminiscent of the taste one would get when smoking marijuana from a bong! One of its main
characteristics is that it likes to go out, and so you must constantly be on guard, because once it
begins to diminish, a portion of it will cease to burn correctly, and so the scissors (or another relight)
will be required. At the five inch mark it is burning hot and feels like I am holding a piece of sponge
cake, so obviously, it is too moist! Judging from the way it wants to go out, I will transfer the
remaining Doppel Gordos to a drying area and continue with this review in another month! Smoking
a cigar should never become a task, and when you find more aggravation than enjoyment, there is
certainly a problem. Usually there is a very good reason for problems such as this, and you should
not immediately dispel the cigar as garbage and give it a thumbs down without first recognizing the
fault! A cigar will only go out when it is - A) over humidified (or) - B) neglected. Bearing that in mind,
I will return in another thirty days to continue this review. Better make that twenty!
Twenty days later and a new Doppel Gordo, the cold draw is found to be equally as impressive.
Upon lighting, I find the core still takes some time to get from black to red, but it's not a big deal.
What do you know, this cigar is now perfect! The smoke is not billowy, and somewhat on the thin
side like a Macanudo, but I like it. As it burns, there is no spongy feel and it tastes just right! There
is not a tremendous amount of smoke for a cigar rolled so tightly, but it burns without wanting to
go out, and that pleases me. As the ash goes down there is no uneven burn, and I can now denote
subtle hints of sweet cocoa! I will admit that in anger, I stashed this cigar in the refrigerator, (which
inadvertently transformed it into the crowning glory of my evening!) Something I would never do
unless I was completely enraged like I was! At the three-inch mark, I can taste what appears to be
caramelized cardboard, but it is really very good! In the end, it was a cigar I truly enjoyed and can
only hope I don't have to do the same thing with the others. No. . . I think they're ready!